YVE Hotel Miami

146 Biscayne Boulevard, Miami, FL 33132
Reservations 855-983-4636 Main 305-358-4555  
Welcome to the Heart of Miami —  located within walking distance to the Miami Book Fair and Bayside Marketplace. Room rates are available exclusively for the Miami Book Fair by clicking on this link:  https://gc.synxis.com/rez.aspx?Hotel=55722&Chain=5156&group=151114MIAM. These special rates are only available from November 14th to November 22nd.
---
Surfcomber | A Kimpton Hotel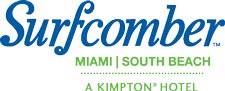 1717 Collins Avenue | Miami Beach, FL 33139
Visit Us At: www.Surfcomber.com | www.KimptonHotels.com
Welcome to Surfcomber. Although we're in the heart of exhilarating South Beach, in a historic Art Deco building, with a palm-tree-lined pool and a silky sand beach in our back yard—we take it all in stride. It's way more fun to put style and socializing over pretense and posing. In fact, Surfcomber just may be the most social of all the beachfront South Beach hotels. From "Daylife" activities to our communal outdoor settings to the daily wine hour, Surfcomber is the place to be for a sunny, flirty escape.
"Certificate of Excellence, 2015" – TripAdvisor
"2014 Best Hotel in South Beach" –  U.S. News & World Report's
https://gc.synxis.com/rez.aspx?Hotel=52564&Chain=10179&promo=MBF
---
Avis
The Avis Worldwide Discount (AWD) Number for the 2015 Miami Book Fair is D757180.
When calling Avis at 1 (800) 331-1600 to make reservations, attendees should provide our reservations agents with this AWD number to ensure they receive the best available car rental rates.
The AWD will be effective from seven days prior to the event until seven days after the event.
To make a reservation, please follow the link below: